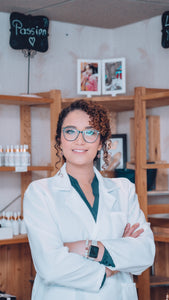 Created by a Biologist and a Naturalist
Combining the love of science and natural traditional home remedies, Sawsen chose to only use safe natural alternatives for her baby's skin issues which wasn't easily accessible on the market so she decided to use her knowledge and make him products she can trust.
read full story here
Natural, Sustainable, Locally sourced!
Skin is our largest organ; any product applied to it gets absorbed directly into our main blood stream, towards our internal organs so we need to treat it carefully, same as what we inhale!
That's why we provide a one stop shopping for all you need in bath, skincare and home.
We deliver safe, simple high-quality and effective alternatives that promote your body's ability to restore a healthy skin and a good health in general while caring about Earth as much as our health.
We honour our natural resources by sourcing local sustainable ingredients, skipping animal testing and using reusable echo-friendly packaging to reduce our company's carbon Footprint.
Where to find ABD Naturals?
Edmonton
The General store at Londonderry mall (main floor close to Simons)

The seven eighty store at Premium Outlet Collection Edmonton International Airport

Pharmasave Lansdowne 5124 122 St NW #101, Edmonton, AB T6H 3S3


ST Albert
ABD Naturals store
St Albert Center 375 St Albert Trail, St. Albert, AB T8N 3K8
The seven 80
St Albert Center 375 St Albert Trail, St. Albert, AB T8N 3K8
St Albert Farmer's Market 5 St Anne St, St. Albert, AB T8N 3Z9
(Back to downtown this year!)
Summit Drug Mart Remedy'sRx 200 Boudreau Rd #101, St. Albert, AB T8N 6B9

Sherwood Park
Wholly Handmade 401 Festival Ln, Sherwood Park, AB T8A 3W7

Spruce Grove
Ali's drug mart 11Westwind Dr #214, Spruce Grove, AB T7X-1R3
Calgary
Turca Café and Market 2604 4 St NW, Calgary, AB T2M 3A1